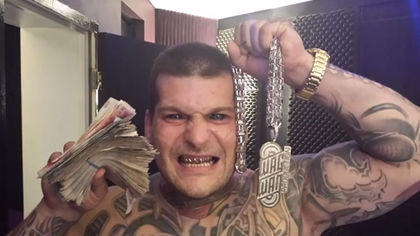 Here at Toronto Gold, we love everything that has to do with gold, silver, and platinum, so you can only imagine how our interest was piqued when we heard about the Canadian lottery winner who apparently died after gold-plating his testicles. As far as we're concerned, that checks all the boxes for an interesting news story.
In late November 2015, reports started to surface that 27 year-old Justin Reiter of Alberta, Canada died after attempting to gold-plate his own genitals with an automotive-grade gold-plater after winning a $598,556 jackpot. The autopsy from Alberta Community Hospital reported the cause of death as lead-based paint poisoning. Others were warned to not attempt this dangerous new trend. The story was posted on several reputable news sites and made the rounds on Twitter and Facebook.
The story seems almost too bizarre to be true, doesn't it? It turns out everything about it is made up. 27 year-old Justin Reiter of Alberta did not win the lottery. He, of course, didn't die trying to gold-plate his manhood. The autopsy report from Alberta Community Hospital is a fake. Alberta Community Hospital doesn't even exist! The picture that was circulating with the news story (seen above) isn't even one of Justin Reiter (there may not even be a Justin Reiter from Alberta; I'm too busy to check Facebook). The picture is actually of a Polish rapper named Popek.
At Toronto Gold, we don't buy gold-plated items, but not because we're unsure of where they've been. That has always been our policy. We are, however, Toronto's leader in gold bullion. If you're looking to buy or sell gold bullion in Toronto, look no further than Toronto Gold. Our prices, which are always posted on our website and in-store, are the best in Toronto. We're so confident that no other Toronto gold store can beat our prices that we offer a 150% Price Guarantee. Bring us a higher written offer from another Toronto gold store on the same day and we'll beat it by 50% of the difference.
Whether it's gold or silver bars, coins, or jewelry that you no longer want or need, bring it down to Toronto Gold. Our friendly, knowledgeable, and well-trained staff is available to assist you seven days a week. Our 829 Bloor Street West location makes us accessible from all parts of the city. So the next time you have some extra gold laying around and you're unsure of what to do with it, bring it down to Toronto Gold and get the most cash for your gold in Toronto. It's certainly a safer option than the alternative.
(Source: Toronto Sun)