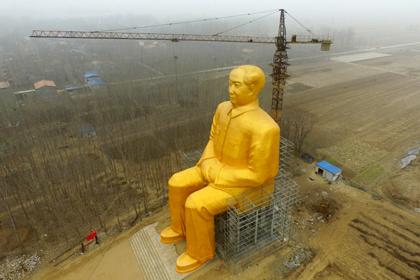 Well, that didn't last long. When several entrepreneurs decided to build a 36-metre gold painted statue of Mao Zedong in the Henan province of China, it was met with mixed reviews—much like Zedong's reign. The photos of the statue, which cost an estimated $650,000 USD to build, started to make the rounds on social media early last week, leading to a mixture of outrage and ridicule. For example, many on Twitter and Facebook joked that Mao was being depicted sitting on the porcelain throne.
Apparently, the Chinese government wasn't too happy with the attention. Rumors began to circulate last week that the statue was being torn down. It sounds like the statue's popularity on social media ultimately ended up being its downfall.
Working with Toronto's Best Gold Store
If you plan on bringing the statue rubble to Toronto Gold looking to cash in, unfortunately you're out of luck. Because the statue is simply gold-painted rather than solid gold bullion, we would not accept it. We do, however, accept your old jewelry, gold and silver coins, and gold bullion. We can guarantee the most cash for gold bullion Toronto has to offer with our 150% Price Guarantee.  If you can secure a written offer from another Toronto gold buyer that beats ours on the same day, bring it to Toronto Gold and we'll beat it by 50% of the difference. That's how confident we are that we offer the best price for gold in Toronto on any given day.
If you're looking to cash in on your old jewelry that's sitting around collecting dust, bring it down to Toronto Gold. We're proud to be a different kind of gold store. No haggling or negotiating. No waiting up to two weeks to receive your payout. We're transparent every step of the way, from our testing process to the buying process, and our buying prices are always posted on our website and in-store and updated every day.
When you bring your gold to Toronto Gold, you can rest assured that you're dealing with the best gold store in Toronto. Our store is located in the heart of Toronto, on Bloor Street West between Dufferin and Bathurst. Don't wait any longer. Come on down to Toronto Gold today and get the most for your gold and silver in Toronto, or give us a call at (416) 434-4653. We can't wait to help you!
Source: Toronto Star