At long last, it's finally 2017!
After a year full of twists and turns, shocks and surprises, wonders and disbeliefs, it's safe to say that we're all looking forward to brighter times ahead.
2017 will be a very auspicious year for those who follow the Lunar Calendar, as it falls on the Year of the Rooster. According to the Chinese Horoscope, which assigns a pantheon of 12 different animals on a repeating 12-year cycle, this year should bring about a fresh new round of promise and opportunities. Unlike the wild and unpredictable Monkey that was 2016, the Rooster assures more practical solutions, such as hard work and determination, which will help us all achieve success and meet our goals!
Like Western astrology, people born in each year are said to have personality attributes that are specific to their animal counterparts. Those born in the Year of the Rooster are particularly groomed for success, as Roosters are known for their intelligence, resilience and punctuality.
To help usher in the New Year, a shopping mall in China has picked a familiar, golden-haired mascot to feature at their main entrance: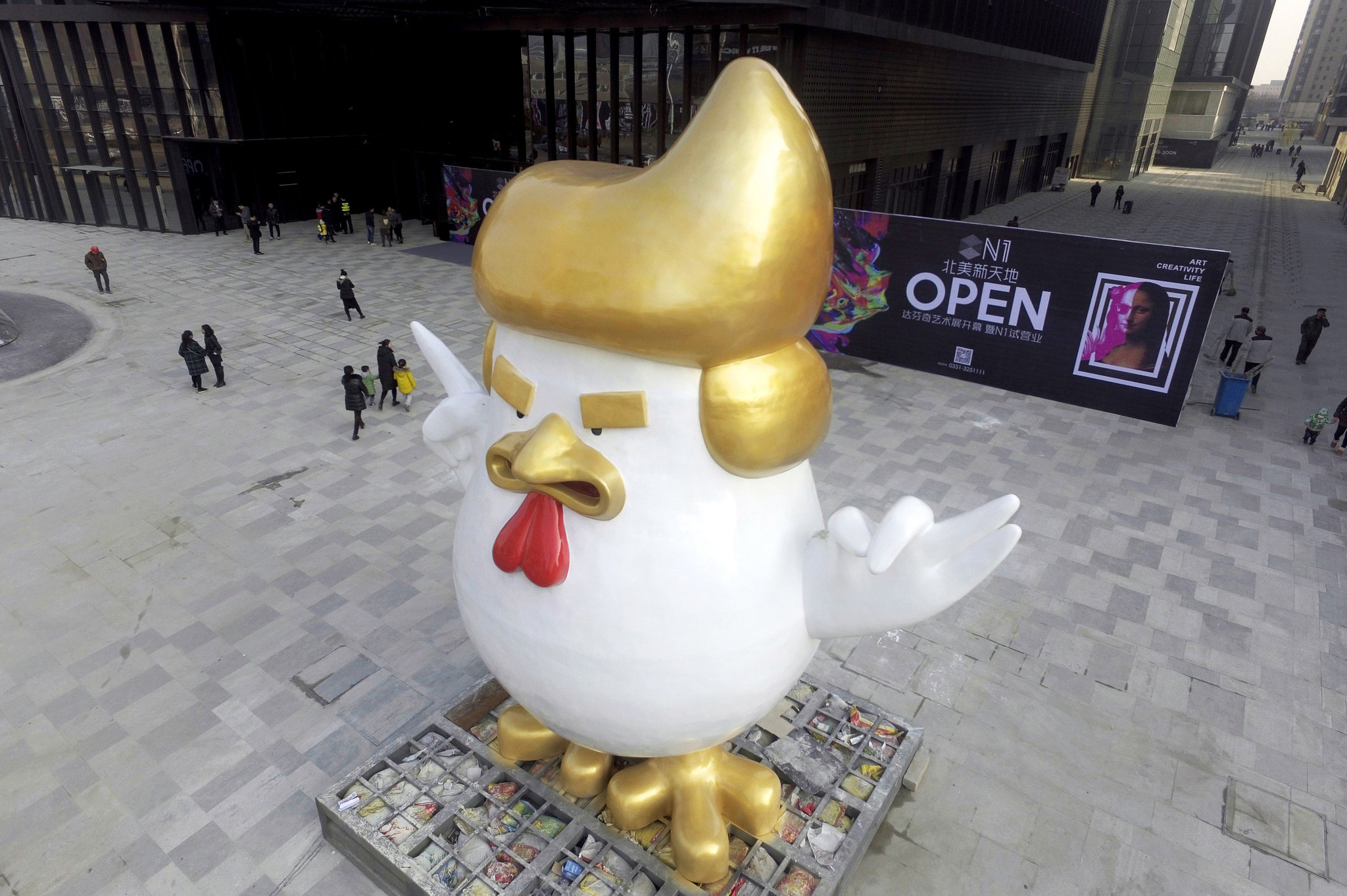 Located in the city of Taiyuan, the fiberglass statue was commissioned by Beijing Reliance Commercial Land, a local real estate company. At 23 feet tall, the giant rooster sports the golden pompadour, bushy eyebrows and colourful hand-gestures of a certain President-elect from the United States.
Despite an uncertain outlook in future U.S.-China relations, most public reactions to the Trump Rooster have been quite positive, with many people describing it as "hilarious," "creative" and even "cute". In fact, online markets have already been flooded with plush toy replicas and figurines of the "Trump Chicken", with one 32-foot version selling for US$1725!
The Lunar New Year falls on January 28 of the Gregorian calendar. No one knows for sure what this year will have in store, but at least one thing's for certain:
"It's gonna be yuuge."
Source: The NY Times